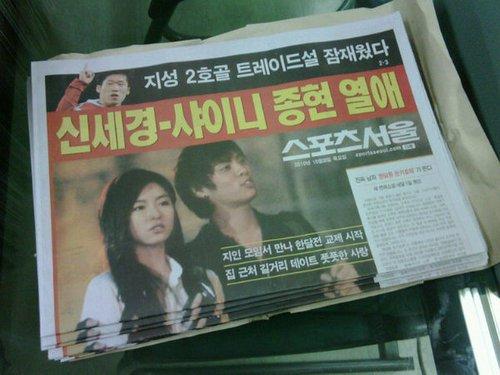 I never thought that this would happen – my favorite podcast covering K-pop. For K-pop fans who have followed the scene faithfully since the early 200s (or even before), the subjects covered in this podcast should come as no surprise: Shin Se Kyung and her romance with Jong Hyun, or the Ailee scandal, or the Black Ocean incident for SNSD. But it is so interesting to listen to it come together in a cohesive manner, with a hopeful conclusion regarding the state of Korean press.
I definitely recommend anyone with access to this podcast to listen to this episode. Personally I only knew of Shin Se Kyung-Jong Hyun and Ailee in a very summarized and distant way, never delving into it much. However I have still been affected by the sensation of K-pop paparazzi; initially shocking, news of romances and scandals are no longer surprising to me. One could argue that as an American (with its own numerous scandals and tabloid culture) I would not be surprised with Korean tabloid culture, but K-pop celebrities' images are so carefully manufactured and presented that it was shocking. And now, when it's covered by so many news and tabloid outlets, it's no longer as surprising when relationships come to light. (What's more surprising to me is sometimes the people involved in the relationship, but not the fact that they have one at all.)
https://www.wnyc.org/widgets/ondemand_player/radiolab/#file=%2Faudio%2Fxspf%2F578186%2F
Kudos to reporter Alexandra Young for reaching out to Soompi and Lee Myung Gu of Sports Seoul/Dispatch in shedding light on the K-pop phenomenon, and the watershed moments that changed how Korea reports on celebrities.
source: radiolab